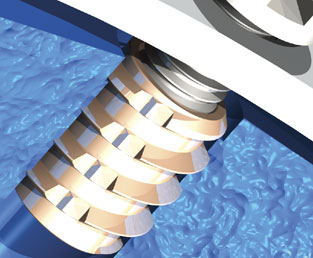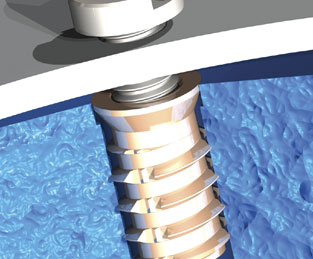 Threaded inserts for structural foam, chipboard and fibre board
The Foamsert® is a special version of the well established Trisert® but with a very coarse truncated external thread form. Like the Trisert® it has three equidistant cutting flutes over the length of the external form and it is this unique combination that makes the Foamsert ideally suited for use in structural foam materials, laminated chipboards, medium density fibre board & engineered woods and certain types of glass reinforced plastics (not Carbon-fibre – consider Trisert-3®).
Continuous product development has led to a headed version of the Foamsert® providing all the benefits of the headed Trisert® in an expanded range of materials. This innovative design adds a significant degree of versatility to the existing inserts for plastics. Both the Double Ended and Reduced Headed versions are installed using a reversible driving mechanism.
Foamsert

®

– Double Ended (040 prefix)
Product Features
The most significant additional features of the Foamsert compared to the Trisert are the larger external diameter, length and coarse truncated external thread form.
Three equidistant cutting flutes, over the length of the external form, give a more balanced cutting load than other forms of self-tapping insert. The cutting action takes place at a larger number of points on the thread form over the length and circumference of the insert.
Lead on both ends allows the insert to be installed either way up, therefore, where the volumes dictate that bowl feeding equipment is required, it is not necessary to incorporate complex flighting systems to orientate the insert, which makes bowl feeding simpler and reduces tooling costs.
Free running internal thread due to there being no interruption to the internal thread, as the external longitudinal flutes produce the cutting action during installation
Reduced outward stress – During the installation process the cutting action of self-tapping inserts results in slight outward stress. This is reduced to an absolute minimum with the Foamsert and enables the insert to be used where there are thin wall sections.
Improved axial alignment – The balanced cutting load of the Foamsert reduces side thrust caused by predominantly only one cutting edge. This has the effect of guaranteeing much closer axial alignment of the insert in the hole.
Design Aids
The Foamsert should be specified in structural foam materials where holes must be drilled and there is no skin to improve pull out performance.
The Foamsert should be specified for applications in blind holes in laminated chip boards, medium density fibre board and some glass reinforced plastics; normally length is stated in mm.
The Foamsert should be specified in applications where exceptional pull out loading is required. Exact loading is a function of the geometry of the total assembly and should be established by trials if necessary in conjunction with our technical department.
Foamsert

®

– Reduced Headed (240 prefix)
Product Features
The reduced headed version of the Foamsert incorporates the same coarse truncated thread form containing three equidistant cutting flutes, but provides the designer and production engineer with a higher performance flush fitting insert to match product availability to common assembly problems.
Reduced head at the same diameter as the external truncated thread form provides an increased bearing surface.
Design Aids
It should be specified where a flush fit finish is required.
It should be specified where higher tightening torques are required.
Installation
The Tappex Foamsert

®

can be installed using our specifically designed Tappex FlexiArm®, used in conjunction with our production drivers (029 series), which provides a method of accurately installing inserts at various heights and positions in a moulding. See FlexiArm® in use in our Trisert FlexiArm Installation Video. Alternatively, they can be installed by hand using our of Hand Installation Tools (031 range) that come complete with alignment bushes to aid correct installation. Please contact our applications department for further information and details.
We have also recently released our newest installation tool for threaded inserts, the ElecArm, a series of electric preset-torque screwdrivers mounted on balance arms, and can be used in conjunction with a Tappex production driver (part no.029).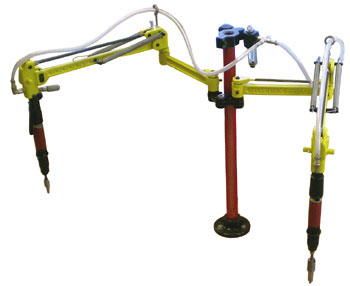 Select Type
FOAMSERT® - DOUBLE ENDED - 040M2.5
Material: Brass - to BS EN 12164 CW 614N
REACH/RoHS compliant as per the candidate list of substances of very high concern.

Finish: Self-Colour. Special finishes to customer requirements, at extra cost.

Description: The Foamsert Double Ended insert is a self-tapping insert. It has a coarse external thread form, with three equidistant cutting flutes and increased outside diameter and length.

Application: A special version of the trisert which has a very coarse truncated thread form for use in structural foam and and fibrous materials. Also suitable for wood and wood composite materials.

Hole Size: Moulded and drilled hole diameters vary dependent upon the nature of the final assembly, component geometry and plastic material. Please consult our technical department for a precise recommendation, to ensure optimum production conditions.Sizes given are for reference purposes only.

Hole Design: The hole design information is intended to indicate the approximate dimensional requirements for satisfactory installation of the insert. They should not be specified for production tooling without prior consultation with our Application Engineering Department - we accept no responsibility should the use of this information without consultation result in product failure. Please call our application engineers for assistance +44 (0) 1789 206600

Installation: Self-tapping using a hand tool (part no.031) or reversible drive mechanism. Tappex offer pneumatic reversible tools mounted in a Tappex FlexiArm, used in conjunction with a Tappex production driver (part no.029).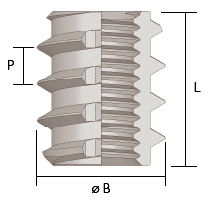 | | |
| --- | --- |
| Part No.: | 040M2.5 |
| Thread Size: | M2.5 |
| Pitch (internal): | 0.45 |
| Pitch (external) P: | 1.81 |
| Diameter (external) B: | 5.50 |
| Length L: | 8.00 |
| | |
| --- | --- |
| Hole Diameter C: | 4.25-5.00 |
| Hole Depth Y: | 8.80 |
| Boss Diameter X: | 12.50 |
| Wall Thickness W: | 3.75 |
The following are downloads relating to the Foamsert® range, although a downloads may also be applicable to other product ranges. General information can be found on our downloads page.
If you can't find what you are looking for, why not try our chat facility where one of our helpful team can assist you or simply give us a ring on +44 (0) 1789 206600.
Details of Production Driver Function, Identification, Dimensions, Suggested stock, and Troubleshooting.
Tappex Hand Tool description, instructions for use, and maximum torques.