Barbed large-headed thread insert
A barbed, large headed insert available in extra short lengths in a range of thread sizes from M2 to M10.
The Microbarb ® incorporates the same features as the headed  Multisert range but with a shorter overall length. This means it is optimised for pull-through applications in thin section materials due to the full size head geometry.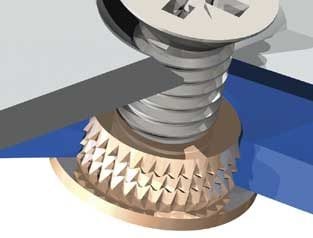 Larger head and barb diameter
The design incorporates a larger head and barb diameter to provide increased bearing surfaces. For larger thread sizes the back of the head is chamfered to reduce the apparent projection. Maximum thread engagement is achieved by countersinking the limited thread length at only one end.
To provide optimum performance the plastic component's material section should be designed to be slightly in excess of the Microbarb under-head length. This ensures that upon assembly a clamp with the mating part is achieved, whilst limiting the compression of the plastic itself.
Insert ideal for use in thin materials
The Microbarb is ideal for use in vacuum formed, rotational moulded and fabricated components in Thermoplastics but has some limitations in Thermoset materials (contactable the Tappex sales office for further details – we may recommend heat-installation instead).
Microbarb

®

Features
The Microbarb Multisert has been designed with a larger head and barb diameter and is a development of the highly successful Multisert

®

 that provides increased bearing surfaces in thin section materials. The insert can be pressed-in cold or with heat and is primarily used in a pull through mode in thermoplastics but has limitations in thermosets – may be acceptable if they have with a tensile strength of less than 100Mpa and some degree of resilience.
Select Type
MICROBARB® - SHORT LENGTH - 0006M2
Material: Brass - to BS EN 12164 CW 614N
REACH/RoHS compliant as per the candidate list of substances of very high concern.

Finish: Self-Colour. Special finishes to customer requirements, at extra cost.

Description: The Microbarb Multisert has larger head and barb diameter to provide increased bearing surfaces.

Application: Designed for use in thin section thermoplastic and some thermoset materials. Ideal for Vacuum formed, Rotational moulded and fabricated parts, where the insert is installed in one direction and the bolt assembled from the other end, giving maximum pull-out loading.

Hole Size: Moulded and drilled hole diameters vary dependent upon the nature of the final assembly, component geometry and plastic material. Please consult our technical department for a precise recommendation, to ensure optimum production conditions.Sizes given are for reference purposes only.

Hole Design: The hole design information is intended to indicate the approximate dimensional requirements for satisfactory installation of the insert. They should not be specified for production tooling without prior consultation with our Application Engineering Department - we accept no responsibility should the use of this information without consultation result in product failure. Please call our application engineers for assistance +44 (0) 1789 206600

Installation: This insert can be used for heat or push in installation depending on the plastic material.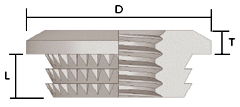 | | |
| --- | --- |
| Part No.: | 0006M2 |
| Thread Size: | M2 |
| Pitch (internal): | 0.40 |
| Barbs (no. of rows): | 2 |
| Head Thickness T: | 0.55 |
| Head Diameter D: | 4.90 |
| Length L: | 1.35 |
| | |
| --- | --- |
| Hole Diameter C: | 3.30 |
| Hole Depth Y: | 1.45 |
| Counter Sink B (+0.10): | N/A |
Installing Microbarb Brass Threaded Inserts Into Nylon Using The Tappex Heat Inserter Tool
In this video we demonstrate the ease at which Tappex's Heat installer can be used to insert Tappex Microbarb, Multisert and Dedsert brass thread inserts into plastic.