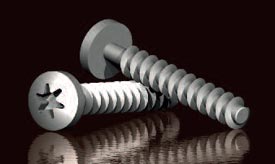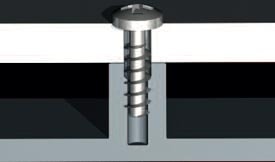 The Tappex TPX thread forming screws (not thread cutting) are designed to be used in most thermoplastic materials. These screws can be installed into drilled or moulded holes in a wide variety of applications. Tappex TPX screws are produced by cold forging, not machined from bar or wire and therefore have good inherent mechanical properties with minimum residual stress. Typically the workpiece material or substrate will relax as the screw rotates during installation and then shrink back, a little.
Thread Forming Screws

®

– Features
Range of diameters and thread lengths
Philips or Recessed Star Drive
Hardened steel with a zinc and clear passivate
Stainless steel 303 grade
30 degree thread flank angle offers the following benefits:

Reduced installation torque
Reduced potential for over tightening
Reduced stress induced in the plastic. (care should be taken with notch sensitive plastics)

With care the TPX screw can be re-installed multiple times
Thread Forming Screws

®

– Design Considerations
For successful installation and application a number of factors should be taken into consideration:
Hole size and design – recommended hole geometry available from Tappex (See ETP 45 downloadable from Tappex website)
Type and grade of Plastic
Boss wall thickness – to withstand installation forces and maximise performance
Installation depth
Required application and strip out performance
For advice, please contact our Applications Engineering Department with your specific requirements.
Product information
The part number is prefixed 069 followed by diameter and length, subsequent coding relates to type, material, finish etc. Please discuss your requirements with us.
Available in diameters 2.5, 3.0, 3.5, 4.0, 5.0, and 6.0mm
Lengths from 6-22mm (2mm increments), 25-50mm (5mm increments)
Materials: Hardened Steel, Zinc and clear passivated or Stainless Steel (303 grade)
Available in Pan Head style, Phillips or Recessed Star Drive
Refer to Tappex for availability and advice, ETP45

®

for further details of dimensions, hole design recommendations and features – see downloads.
The following are downloads relating to the Thread forming screws range, although a downloads may also be applicable to other product ranges. General information can be found on our downloads page.
If you can't find what you are looking for, why not simply give us a ring on +44 (0) 1789 206600.
Features, Design Considerations, Hole Design Features and Dimensions.