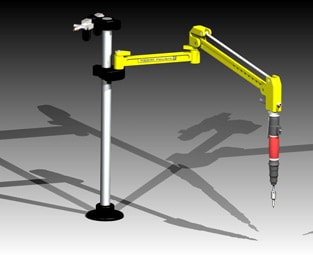 FlexiArm® for installation of threaded inserts
The FlexiArm® (035 series) has been designed for the rapid installation of the Tappex Trisert®, Trisert-3® and Foamsert® Threaded Inserts
The Tappex FlexiArm® installation equipment consist of 1-3 individual pantograph arm(s) with a Desoutter pneumatic screwdriver(s) attached to each. The screwdriver can be specified with either manual or automatic reverse torque-clutch control and normally operate @ either 510 rpm or 1,100rpm depending upon the thread insert's size and the material into which it is being installed.
The FlexiArm® provides a lower-cost assembly solution for many different post-mould applications and can often, because of compact size, be located adjacent to the respective injection or compression-moulding machine, this results in more efficient manufacture as inserts can be installed during the down or waiting time of a typical mould cycle. It is available with one, two or three arms (which can be fitted at a later date) to suit most multi-task assembly requirements.
A range of Tappex production drivers (029 series) are available to provide an accurate method of installing the inserts at various heights and positions in the moulding (see inset). Available also separately to suit M2 to M8 threads and most equivalent Imperial sizes.
Tappex can provide a convenient installation tray for use with the Flexi-Arm. This is suitable for prefix Trisert part nos: 136, 137, 138, 170, 336, 338 and Foamserts : 040 in a range of sizes from M2 to M6.
The following are downloads relating to the Installation equipment range, although a downloads may also be applicable to other product ranges. General information can be found on our downloads page.
If you can't find what you are looking for, why not simply give us a ring on +44 (0) 1789 206600.
Details of Production Driver Function, Identification, Dimensions, Suggested stock, and Troubleshooting.
Installing Brass Threaded Inserts Into Nylon using the Tappex flexiarm
In this video we demonstrate the Tappex 510rpm Manual Reverse Pneumatic Screwdriver & Flexiarm and show how easy it is to install Tappex's Trisert (one of our brass self threading inserts) into 30% glass filled nylon.