Brass threaded insert for stress-prone plastics
The Tappex Suresert®  is designed for Ultrasonic or Heat installation into notch sensitive thermoplastics.
The double-ended design, see image, includes two annular bands of knurling with a curved form rather than the more conventional pyramid form, central undercut, and pilots at either end.
Notch sensitive thermoplastics tend to be affected by the form on the insert surface, particularly by sharp edges and corners which act as stress raisers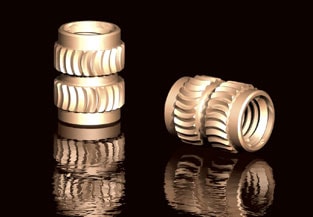 can initiate cracking. The Suresert design utilises a curved knurl form to reduce the formation of stress raisers in the body of the plastic. In application the torque applied through the fastener is transmitted by the curved knurl form into the plastic in a more progressive manner.
The Suresert insert is double ended simplifying orientation before installation into the plastic moulding for manual and automatic assembly methods.
Suresert® Advantages:
Reduced in place stress over conventional barbed inserts.
Particularly suitable in stress prone thermoplastic materials.
Heat or ultrasonic installation.
Double ended to simplify automatic and manual installation.
Pilots provide a means of alignment with the receiving hole.
The part number is defined 202, followed by the thread size. Available in sizes M3 and M4, other sizes available to customer order.