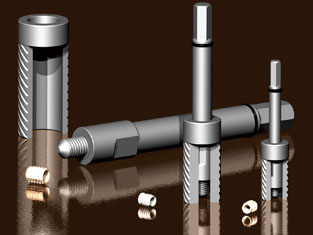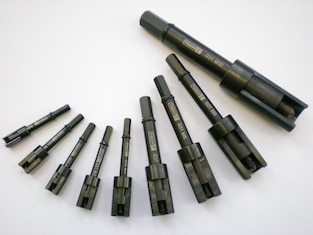 Hand Installation Equipment for threaded inserts
Tappex patented hand tools are designed to allow the quick, easy, accurate and repeatable installation of Tappex self tapping thread inserts.
For use with the Trisert and Trisert-3 inserts in thread sizes from M2 to M10, these come complete with an alignment bush.
Extended nose feature for restricted access and depth control
A metric hexagonal drive for universal ease of installation, so can be used with either a socket drive tool or tap wrench
Alignment bush retained by an O ring which allows removal of the shroud if space is limited
Centred to aid alignment with pillar drill or mill
A nose designed to install the insert to the correct depth – ensuring consistently that the best performance is achieved
Hard wearing & durable 'blackened' finish
The following are downloads relating to the Installation equipment range, although a downloads may also be applicable to other product ranges. General information can be found on our downloads page.
If you can't find what you are looking for, why not try our chat facility where one of our helpful team can assist you or simply give us a ring on +44 (0) 1789 206600.
Tappex Hand Tool description, instructions for use, and maximum torques.
Installing Brass Threaded Inserts Into Nylon Using The Tappex Hand Tool
In this video we demonstrate the ease at which Tappex Triserts, brass threaded inserts, can be inserted into nylon using Tappex's Hand Tool.