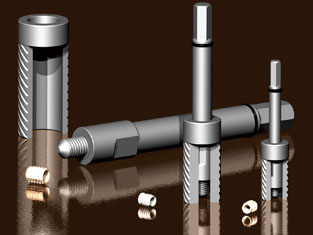 Hand Installation Equipment for threaded inserts
Tappex have responded to new market demands and developed an improved range of 031 Hand Installation Tools for use with the Trisert and Trisert-3 inserts in thread sizes from M2 to M10, these come complete with an alignment bush.
Extended nose feature for restricted access and depth control
Hexagonal drive for universal ease of installation with retained alignment bush
Hard wearing & durable 'blackened' finish
The following are downloads relating to the Installation equipment range, although a downloads may also be applicable to other product ranges. General information can be found on our downloads page.
If you can't find what you are looking for, why not try our chat facility where one of our helpful team can assist you or simply give us a ring on +44 (0) 1789 206600.
Tappex Hand Tool description, instructions for use, and maximum torques.