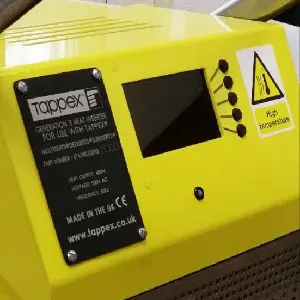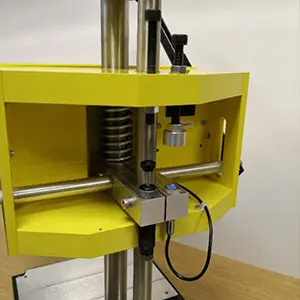 The Tappex® Generation 3 Heat Inserter is designed to allow quick, easy and repeatable installation of a range of Tappex threaded inserts – Multisert®, Microbarb®, Dedsert® and Suresert® female and male inserts.
The machine is sold as standard with a single heater cartridge fitted but is capable of installing up to 4 inserts at multiple heights at one time with additional cartridges fitted. This is application specific and there will be design work / additional machining required; please contact us for details and costing.
Key features:
Switched operator and setter modes.
Secure, lockable setting enclosure.
Installation Speed Control.
Depth verification Indicator light.
Variable Temperature up to 400 C.
Adjustable Stop position.
Operation handle suitable for left and /or right hand operation.
Complete with 3 standard heat tips to suit Tappex inserts, selected at time of order.
Removable power lead with 2 or 3 pin plug fitted. (Customer to specify at time of order.)
Machinable base plate and top plate for jigs and fixtures.
Twin mounting columns for increased stability.
Maximum working height with tip removed 220 mm. (Standard tips protrude approximately 25 mm.)
Work Area of 210mm x 300mm illuminated by dual LED lighting.
Stroke length – 70 mm
Rugged Construction.
Voltage 110 – 230V AC 50 – 60Hz.
Output 400W, up to 4 off Max. 1600W.
CE certified ; EMC – EN61000-6-4: 2007 + A1: 2001. Electrical safety –
EN61010 – 1 : 2010 + A1 : 2019
EA Producer registration number WEE/BJ0065TW.
Part number 074/HIE/GEN3
If you have any further questions, or would like to discuss your requirements with us further, please give us a call on +44 (0) 1789 206 600 or email us at
sales@tappex.co.uk
.
Video demonstrations of the Tappex Heat Installation Machine