Titanium self-tapping threaded inserts
Tappex have recently introduced the new Trisert-3 in grade 5 Titanium. Titanium threaded inserts provide a number of benefits over their brass and steel counterparts including better corrosion resistance and measurably improved strength to weight ratio.
These characteristics makes them ideal for use in seawater environments and in critical applications i.e. marine, nuclear, aerospace, drones, motorsport and water-treatment equipment.
The popularity of titanium is on the increase, due to its improved performance over the more commonly used materials. In response to this Tappex will continue to develop their threaded insert range to deliver the product characteristics required by our customers and industry. Titanium threaded inserts are versatile and can be installed into most thermoplastics, thermosets, composite materials and light-metal alloys. Tappex threaded inserts can be directly placed into pre-moulded and/or drilled pilot holes.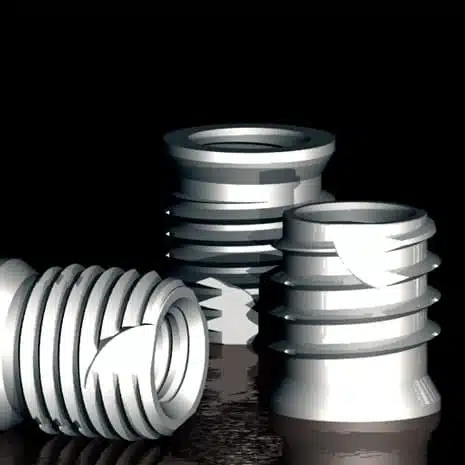 Trisert-3®
Self-Tapping Plated Steel, Stainless Steel or Titanium Insert. The Tappex Trisert-3 has three cutting features to provide a balanced cutting action and reduced installation torque. It is suited for critical applications in hard plastics & light metal alloys and is available in two lengths, regular and long, and is based upon the Trisert Reduced Headed design.
Product Details