About Us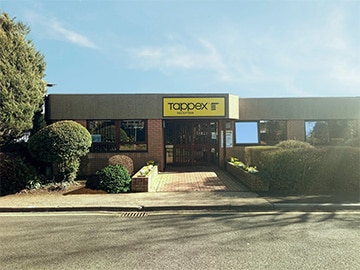 Tappex Thread Inserts Limited is a UK-based company and is part of the privately owned Tappex group of companies established for over 60+ years serving both UK and International manufacturing supply chains and OEM customers alike, from their Stratford upon Avon HQ. Tappex has wholly-owned subsidiaries located in the UK, Sweden (C Edgren) & Finland (Tappex Finland); Tappex also has a well-established global network of independent technical distribution-partners & sales agents since 1980's.
We are specialists in the manufacture of threaded inserts for plastics, woods, light metal alloys & composite materials and provide high level technical advice and exceptional customer service. Our in house applications engineers and technically qualified field-sales staff are here to help our customers achieve cost effective solutions for thread insert applications across a wide range of industries, helping customers solve fastening problems by design, quality and service.
Products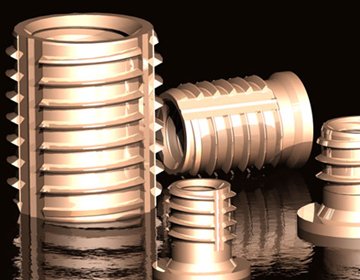 Tappex® offers a broad range of threaded inserts for plastics to suit mould-in and post-mould installation dependant on the customer's application requirements as well as their in-house manufacturing process
considerations.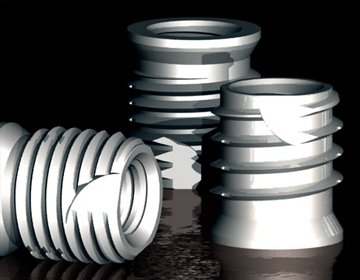 Tappex® have thread inserts designed for critical applications in light-metal alloys such as: Aluminium, Zinc & Magnesium when they are subsequently manufactured as castings, extrusions, machined or fabricated parts.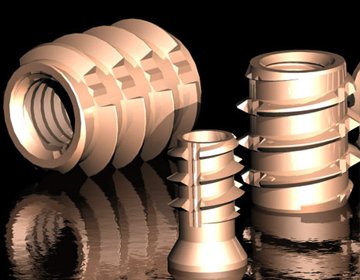 Tappex®, as a fastenings technical-leader,  has identified bespoke requirements for mechanical joining of contemporary materials such as glass-reinforced plastics (GRP), combinations of metal alloys / plastics, structural foams / woods / paper-based sandwich constructions and increasingly carbon / kevlar-fibre laminated constructions.
For applications where stress-prone or brittle, glass-filled thermoplastics are specified, Tappex have developed special-variant threaded inserts to suit these more demanding materials. Such threaded inserts can be supplied either in either brass or steel material(s) for post-mould 'self-threading' and/or 'press-in' installation. Typical applications are either machined or moulded plastic(s) applications at ambient temperature or installed with heat applied.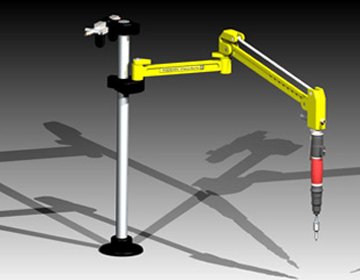 The Tappex range of installation tools includes: FlexiArm® (035 series) , Production drivers (029), Hand tools (030/031 series) and a 3rd generation heat installation machine to be introduced early November 2019. Our installation tools enable the installation of threaded inserts by either heat press-in or self-tapping (threading) methods.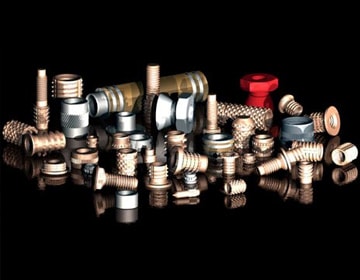 Tappex can supply samples to suit your application and / or initial assessment needs. To request samples, please choose a product then configure it to your specification using our product selector, then choose Order sample /quotation form details. If the part nos are in stock then we typically will despatch in 1-2 working days upon receipt of your request.
Latest News
Tappex were recently approached by a well-known, premium sports-car manufacturer, looking for a solution to an electric vehicle application, where a double ended male insert was required to allow current to pass through a PC/ABS moulding. The moulding required two inserts per part and these were to be used, to join electrical cables for a […]
Tappex are pleased to announce that they have been awarded certification as an 'Approved Economic Operator. This follows a detailed preparation of documents and external audit, by UK HMRC, of Tappex Export-Sales & Purchasing procedures and due processes in order to manage both all relevant administration activities, compliant with HMRC and in support of Tappex […]
Tappex® are often asked the question… "Which thread insert should I use in my 3d printed prototype" Before we answer this question, firstly perhaps we can consider… Why use a Thread Insert? With more and more manufacturers/OEM's looking to utilise additive manufacturing processes/3D printing technologies, for both low to medium volume production and prototype parts, […]
What Others Say
Charlie Woodsman
Designer
While inserts from other companies have damaged the materials I work with, Tappex identified a product which meets my technical needs perfectly. The Tappex staff were knowledgeable, courteous and extremely helpful.
BW
MechanicalDesigner
Your whole team has been nothing but kind, helpful and cheerful, and it has really helped to reduce the amount of panic at this end.
R.Keyte
CEng FIMMM Engineering Consultant.
I would like to recommend the services both technical and sales support I have received from Tappex.
I received concise answers to my questions regarding installation tolerances they also suppled CAD data which saved me further time.
After all the support they were still happy to quote for the small quantities involved with my current design work.
A first rate job by all involved, thank you.
Simon
Snr. Designer, Technical-Injection Moulding Co., UK
A great range of performance products with the added benefit of an excellent technical-support service.