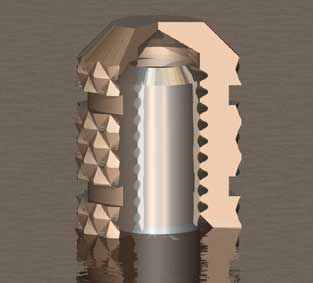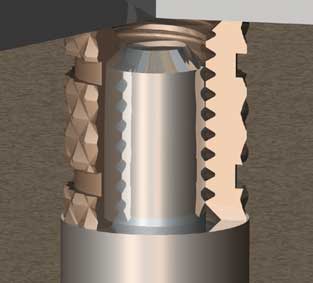 Technical advancement of traditional 'mould in' threaded inserts
The Tappex HiMould

®

range of brass thread inserts has been designed as a technical advancement on traditional inserts, with direct push-fitment on top of close-toleranced pins, located within the cavity of a customer's mould tool. Traditionally, thread inserts were located by screwing onto these pins but the Tappex HiMould

®

simply requires to be pushed onto plain pins for increased speed thus saving time and yet whilst maintaining accuracy. With the HiMould

®

range of inserts, this costly and inefficient process becomes unnecessary, as the thread insert can be rapidly located on to plain pins thus giving higher productivity and reducing tool down time. Despite the use of plain pins, the unique design of the HiMould insert, still gives generally 'flash free' threads.
Moulding-in for Thermoplastic and Thermoset materials
Tappex HiMould® inserts have become widely used for most types of thermoplastic and thermoset plastics as they are suitable for both injection and compression moulding processes.
HiMould

® 

range 'generic' insert features:
Easier moulding – ejection because the HiMould

®

insert is located on a plain pin; there are no secondary operations required before removal of the moulding from the mould tool. This allows the use of sleeve ejectors or a centralised ejection screw; in turn this significantly simplifies tool design and produces easier moulding injection during production, thereby increasing productivity.
Recessed – The HiMould

®

insert can be used in preference to post-mould installed inserts where the application of the insert is in a deep recess or cavity. In this type of situation, it is feasible to locate inserts in the mould tool, where the recess in the moulding is reflected in a protruding portion in the tool, than to attempt to post-mould install into a difficult physical situation.
Standardised design – The HiMould

® 

range of inserts has been designed as a standard item, which caters for all types of applications in the smallest possible insert diameter; easily located in mould tool. This allows the designer to standardise and avoid the necessity of designing a special insert for each new application. In turn, this eliminates high costs for manufacturing specials and enables large stocks of standard components to be held, giving immediate delivery of small or large quantities. The square face fits flush with the mould tool and eliminates flash. Customers are advised to contact Tappex beforehand for core pin design details and won't accept responsibility if this information isn't used without consultation leading to product failure. Lengths normally stated in mm.
Thin wall applications – It's possible to mould-in HiMould

®

inserts very close to the edge of mouldings or in situations where there are thin walls or bosses subject to integrity of the mould tool manufacture. This may be impractical for post-mould installed inserts. Maximum performance is created by the external diamond knurl form which includes two undercuts to knurl depth resulting in a large number of shear points being created over the whole length of the insert. This gives better axial and radial performances than other mould-in inserts in relation to its diameter.
There are three types of HiMould

® thread 

inserts which provide a wide range of application(s) performance & benefits to support different design criteria.
Most thermoplastics can be used with HiMould

®

inserts, whenever components are being moulded or cast. The range covers M3 to M12 internal thread sizes; M2 and M2.5 are also available but with machined single undercuts only. The three types of HiMould insert are shown below: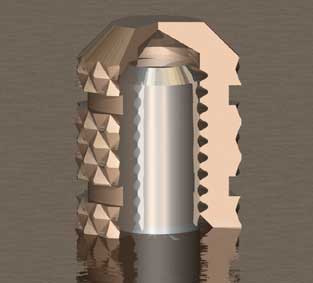 Blind-ended design
A standardised insert and pin design cutting down design time
The open face is accurately machined at right angles to the axis of the insert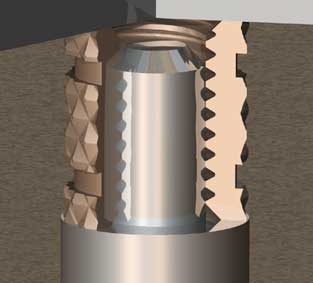 Open-ended geometry
A standardised insert and pin design cutting down design time
It is possible to hold the length of the B type insert to +0.05mm/-0.05mm, to enable the tool to shut solid on the insert giving flash free threads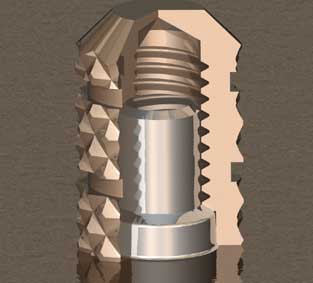 Blind-ended geometry with additional counterbore feature; suitable also for vertically installed 'core pins', i.e. works well when located on the moving-top half of the mould tool as it offers better retention rather than just gravity or where inserts can easily become dislodged either before or during the moulding process
A longer length insert to cope with variation in bolt length and clamping thickness
Excellent performance in foam materials also where flashing often occurs due to the searching nature of the plastic; insert incorporates extra counterbore feature in open-end; especially suitable for high pressure / low viscosity melts
Select Type
HiMOULD® - TYPE A - 116M3
Material:
Brass - to BS EN 12164 CW 614N
REACH/RoHS compliant as per the candidate list of substances of very high concern.
Finish:
Self-Colour. Special finishes to customer requirements, at extra cost.
Description:
The HiMould 'A' type insert for moulding-in, has an external diamond knurl form with two undercuts. The HiMould is dimensionally interchangeable with its' Yardley equivalent.
Application:
This blind insert is designed to be installed onto a plain pin in the mould tool. The molten plastic flows around, and engages with, the external form during the moulding process. The shorter length over the Type C allows its use in areas where space is restricted. Provides excellent pullout performance and resistance to rotation.
Pin Design:
The pin design and tolerance information is intended to indicate the dimensional requirements for satisfactory installation of the insert. They should not be specified for production tooling without prior consultation with our Application Engineering Department - we accept no responsibility should the use of this information without consultation result in product failure.
Please call our application engineers for assistance +44 (0) 1789 206600
Installation:
The Tappex HiMould type 'A' insert is designed to be used on a plain pin in the mould tool. It's manufactured with the internal thread produced to reamed bore tolerances. The open face is accurately machined at right angles to the axis of the insert. The dimensions of the tool pin allow for a slight interference fit between the pin and the internal thread of the insert, which holds it in place in the tool. The square face fits flush with the mould tool and eliminates flash.
MANY VARIATIONS ON ALL OUR STANDARD PARTS, INCLUDING MALE INSERTS, ARE AVAILABLE. IMPERIAL THREAD SIZES USE NEAREST METRIC EQUIVALENT FOR EXTERNAL DETAIL. PLEASE CONTACT US WITH YOUR REQUIREMENTS.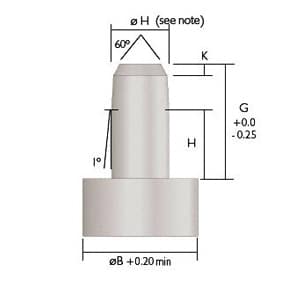 | | |
| --- | --- |
| Length G (+0.0/-0.25): | 4.8 |
| Diameter H: | 2.5 |
| Lead K: | 0.75 |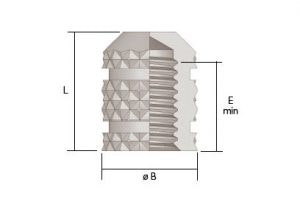 | | |
| --- | --- |
| Part No.: | 116M3 |
| Thread Size: | M3 |
| Pitch (internal): | 0.5 |
| Dia (external) B (± 0.25): | 4.15 |
| Bolt Engagement E (min): | 3.7 |
| No. of Full Threads: | 6.8 |
| Length L (± 0.25): | 6.4 |