Steel male insert for a high strength solution
Tappex are extending the existing range of machined male inserts with the introduction of it's cold-forged steel, premium strength SplayMould® male insert. Often customers expect to be able to apply standard tightening torques at the point of assembly and in application to enable existing equipment and set ups to be utilised. The Tappex SplayMould® offers a higher strength solution and is for moulding-in.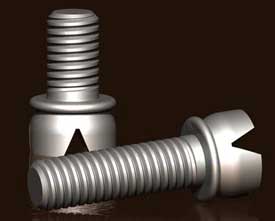 SplayMould® Features
Mould in male, cold-formed steel fastener.
Headed to provide a large bearing surface and support against the mating part.
Standard strength equivalent to grade 8.8
Other strength grades considered to your requirement.
Nut End Length to suit your requirements.
With or without Dog Point.
Head form generates high resistance to rotation and pull out in the parent material.
Suitable for medium to high volume applications.
Standard Finish is ZnNi and Cr3 Passivate to give +480hrs salt spray resistance.
Special finishes considered to your requirements.
Part number 5365M#… defines the SplayMould® range.
M6 samples in NEL's of 15mm and 10mm available from stock.
Other thread sizes and lengths may be developed at customer request.