Tappex Self-Tapping Thread Inserts for Solid Core Laminate Materials.
Solid core laminate materials have become a main stay in the furniture Industry and their use can present manufacturers with significant difficulties, when it comes to fasteners and fixings.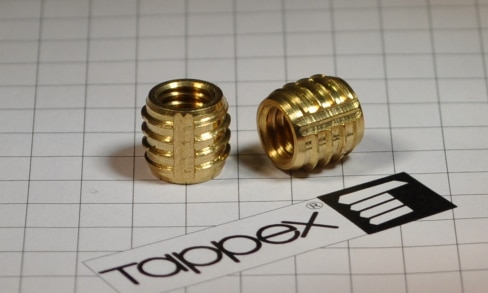 Trisert® self-tapping inserts are an excellent alternative to traditionally used press-in or expansion type brass thread inserts. Many of our customers who now use Trisert® inserts, have in the past experienced product failures using expansion or push-in type inserts.  These failures are partly due to the inferior quality of the inserts (which are usually manufactured in a country of least cost) and partly due to the build of tolerances in the drilled hole, insert and fixing screw assembly. Failures that occur in the field can have both a negative effect on the manufacturers brand name and also prove very costly to rectify.
Tappex® close-tolerance self-tapping inserts are ideal for this thermoset plastic material and providing the hole size is drilled correctly and the insert is also installed correctly, we would expect to see pull out loads in the region of 550Kgf. A press-in type insert would generally offer performance of around 200-250Kgf.
The Trisert® range of inserts are available in sizes from M2 to M10, in a range of materials including brass, stainless steel (grades 303 & 316) and also case hardened and plated steel – depending on your environmental conditions and budget.
Tappex® can provide full technical support with your project ranging from initial recommendation, to hole design data and once your prototype is built, we can perform pull-out or application torque tests, to establish the performance of the insert in your application.
The inserts can be quickly and easily installed using a Tappex® hand tool, or if volumes justify, a Flexi-arm system can be utilised.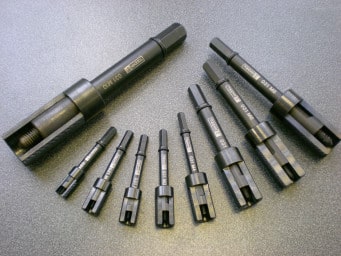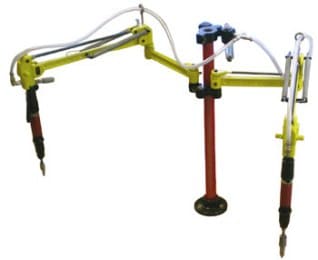 For more information on the Trisert range of inserts – please click here
For further information on the Tappex range of hand tools – please click here
For further information on the Flexi-arm – please click here
If you'd like more information, or to discuss your application further, please give our sales team a call on +44 (0) 1789 206 600, or send us an email to sales@tappex.co.uk.