Self Tapping Thread Inserts for plastics metals and composite materials
Tappex manufacture a range of threaded inserts for plastics, metals and composite materials.
As part of our comprehensive product range we offer the Trisert 3 thread insert. Trisert 3 self tapping inserts are available in hardened steel and stainless steel (Grade 303 & Grade 316) and can be installed into a variety of materials, including aluminium, magnesium, carbon fibre or the latest engineering and glass filled plastics.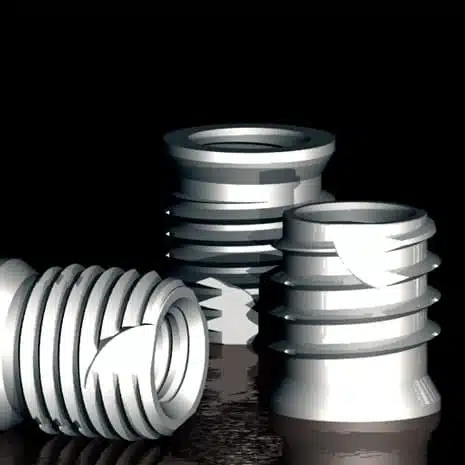 The Trisert-3 thread insert has three cutting features to provide more balanced cutting forces and therefore reduced installation torque, compared to the many cross-slot designs available, that only have two cutting features.
The Trisert-3 design maintains the complete cylinder design that provides a stronger body, size-for-size, than the slotted design and also allows it to be used in pull-through applications, without any problems due to increased assembly torque associated with slotted inserts.Trisert-3 is available in two lengths – regular and long – and is based upon the Trisert Reduced Headed design. This provides an increased bearing surface that not only allows higher tightening torques to be applied, but also provides more support to softer mating components. The head diameter is designed to exactly fit the counter bore in the prepared hole, and thus presents a neat flush fit finish, where required.
Material grades
In most applications into plastic, the standard brass Trisert offers a satisfactory and economic solution with good wear resistance and strength. Also it will withstand corrosion in most environments without any second operation surface treatment.
In order to meet the requirements of a wider range of host materials and harsher applications, the selection of the material for the Trisert-3 was very important. Thus the Trisert-3 is offered in two grades of Stainless Steel (303 and 316) and also in case hardened steel with a zinc nickel, trivalent passivated finish.
A key feature of the Trisert-3 is its ability to withstand critical environmental conditions, such as marine and chemical/food processing, while still retaining good wear resistance and strength.
Trisert-3 for thread repairs.
The Trisert-3 inserts can also be used for thread repairs into Aluminium or other metal alloys. and because they require just a straight drilled hole with counterbore as opposed to drilled and tapped holes necessary for wire thread inserts, you can reduce labour costs and save time.
We have a range of self tapping threaded inserts suited to different applications and materials, to find out more please see our self tapping threaded inserts page or speak to our applications engineers on +44 (0) 1789 206600.