Electrically conductive insert developed for an electric vehicle application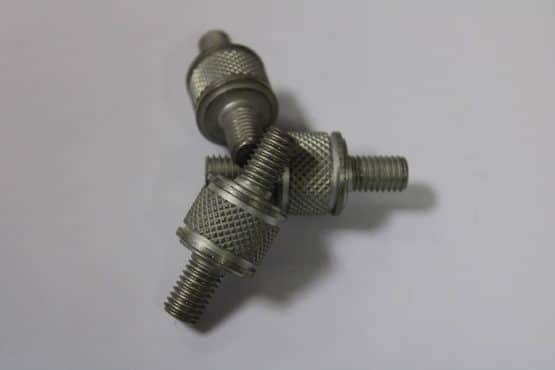 Tappex were recently approached by a well-known, premium sports-car manufacturer, looking for a solution to an electric vehicle application, where a double ended male insert was required to allow current to pass through a PC/ABS moulding. The moulding required two inserts per part and these were to be used, to join electrical cables for a power supply unit.
The original design intent was for a hexagon form insert, however, we have in the past known customers experience problems with hexagon forms creating stress points in mouldings. The insert needed to be "moulded-in" to ensure best performance and the moulding contractor agreed that our recommended "Tappex diamond knurl" exterior form, would be preferable to a hex-form. The diamond knurl offers a good degree of resistance to rotation and the undercuts improve axial pull-out performance.
As a single insert application, Tappex had concerns over the stripping torque that could be applied to the insert position, as the nut is tightened to the specified loading. With this in mind Tappex also suggested a design change to the moulding, to improve the rotation performance further.
The insert was produced from free-machining brass and the large head, gives greater contact area for the electrical connections. Post machining, the part was tin plated, to improve the electrical conductivity.
Once the design had been optimised and locked-down, Tappex produced a batch of samples on our in-house CNC machines and these were used for testing and vehicle validation.
PPAP's were created and submitted and now the part has entered into series supply stages.