Tappex Thread Inserts – Coming to an Exhibition near you – PDM 2015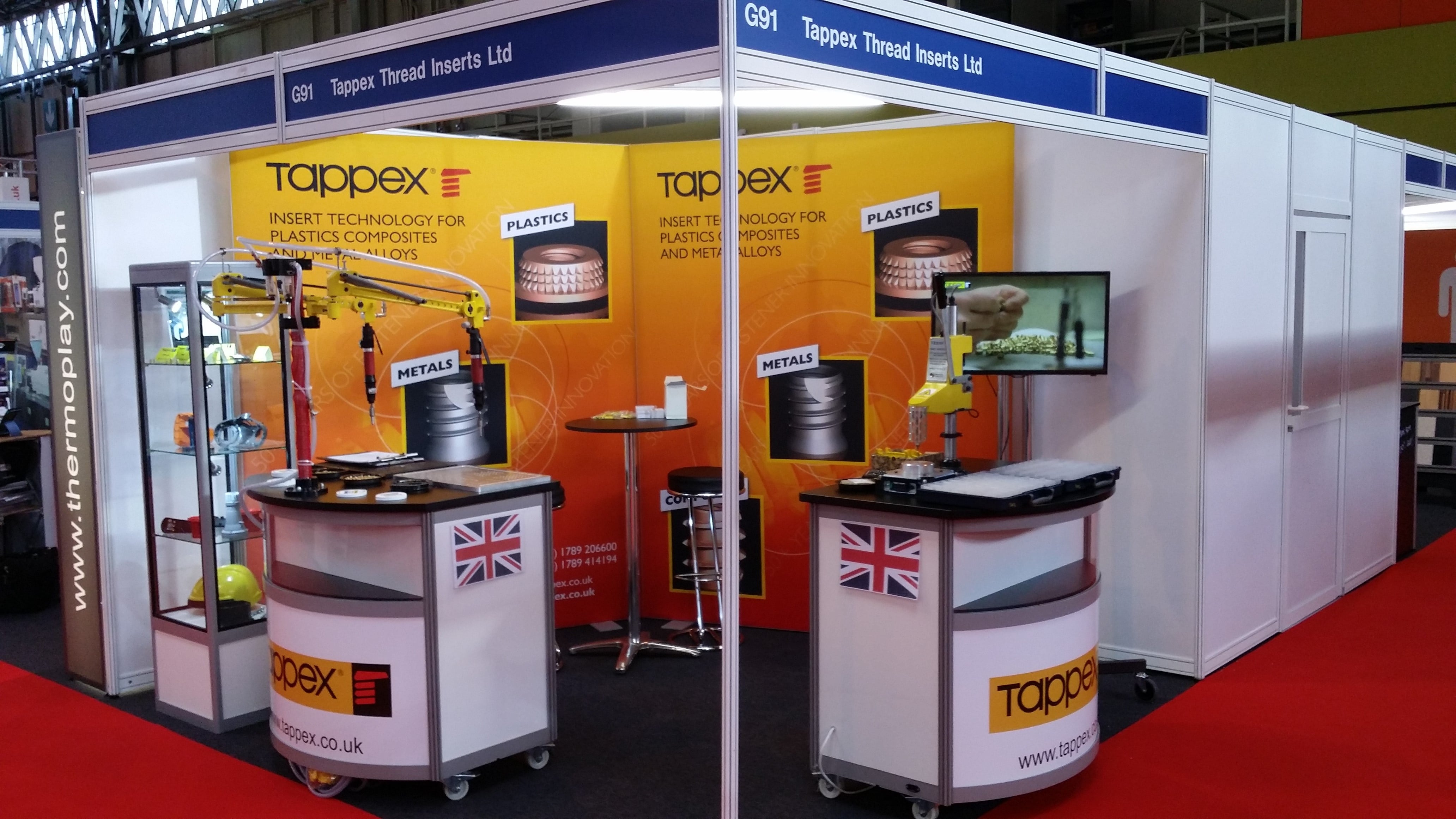 The Tappex Group of Companies will be exhibiting at this years Plastics Design and Moulding Exhibition – PDM2015.
Tappex group includes the following two operations both based in the West Midlands and of independent family ownership since 1956.
Tappex Thread Inserts Ltd are manufacturers of fastening product solutions for the OEM/Plastics Industries. Our comprehensive range of Threaded Inserts & Compression Limiters can be used for mouldings including Injection, Compression, SMC & DMC, Wood Laminates, Composite material constructions & Light Metal Alloys.
OEM applications include Automotive vehicle Electronics/Control enclosures, Interiors trim & dashboard constructions, Exterior fitments & Chassis parts. Many of our components are found in critical applications across a range of industries including aerospace, marine, rail, domestic appliances, telecommunications medical instruments and motorsport to name a few.
Threaded Inserts may be specified for inclusion within bespoke mould tooling, post-mould installation whether by physical press-in (at Ambient temperatures, or with Heat or Ultrasonics) alternatively they may be of the self-threading type.
Tappex Threaded inserts are suitable for a very wide range of Thermoplastic & Thermoset materials, including the latest engineering plastics and composite materials.
Tappex have in-house applications engineers, prototyping, mechanical test as well as relevant project management experience to look after OEM/Automotive AQP requirements.
Tappex product both standards & specials are supplied to OEM & their supply chains including JLR, VW Group, Mercedes Benz, MAN & JCB – Tappex works with Tiers – 1,2 & 3 to suit.
Our knowledgeable sales engineers will be on hand at the PDM exhibition to demonstrate our range of installation machinery and also to discuss your current or upcoming projects involving threaded inserts.
To see the Tappex range of products please follow this link… our products
Pressavon Ltd – Progression-tooled metal pressed parts for OEM/Automotive Industries. 1st & 2nd supplier to Automotive & Brown Goods Industries.
Long-standing experience of developing solutions for fluid pipe/tube bracketry & sub-assemblies (currently supply via Tier-1 into Mazda such a volume part). Some specialization also with 2nd.Op. welding (including Robot),Vibro-deburr & mechanical sub-assembly. Capable of handling material sections up to 6mm thickness with 25-220Tonne Hydra-Mechanical Presses. Knowledge of tooling & process requirements for Cold/Hot formed steels (including high tensile grades) & also non-ferrous materials.
Experienced project managers who will take responsibility from concept to series supply of customer's parts.
Both the Tappex & Pressavon companies operate under BS9001-2008 & ISO 14001 accredited controls, hold IMDS registration and undertake PPAP/ISIR's as required.