Tappex Thread Inserts – Coming to a US State near you!
Tappex have for many years supplied Threaded Inserts directly to a great number of OEM's across the United States of America.
Following the recent success story that was the NIFMSE (National Industry Fastener & Mill Supply Expo) in Las Vegas…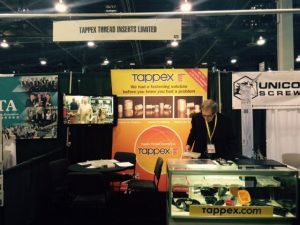 Tappex received a great deal of interest from many US based technical distributors.
We are currently working our way through the list of potential distributors and look forward to bringing you more information soon.
For anyone that didn't get chance to see us and would like to discuss becoming a technical distributor for Tappex Thread Inserts,
please do give us a call on +44 1789 206 600 or e-mail us on sales@tappex.co.uk.
We'd like to say A big thank you to everyone who came to see us at the show and indeed to everyone who made us feel very welcome.
Looking forward to next years show already!