Tappex Heat Installation / Heat Staking Machine for Press-in type Thread Inserts
Introducing the high quality heat inserter machine from Tappex Thread Inserts Ltd.
A machine that's built to last, the body and foot are manufactured from cast aluminium with an epoxy powder-coated finish and the post is made from steel. The machine can be used to install any of the Tappex press in range of inserts – (Multisert, Dedsert, Microbarb or Suresert ranges) from M2 upto M12.
The machine's features include…
Installation Speed Control – an adjustable damper that prevents the insert from being pressed in before the material has had chance to melt.
Installation Complete Indicator – A green LED illuminates when the insert has been installed to the correct height, this ensures optimum cycle times are achieved.
Variable temperature range – Up to 400 degrees C – ensures the machine can be used on a great variety of materials. (Temperature is limited to 400 degrees prior to delivery, machine is capable of higher temperatures but may affect the lifespan of the heater element).
Other specifications…
Stroke depth of 75mm
Adjustable height / Stop Position
CE Marked
Voltage 230V AC 50Hz
Output 400w
Complete with Three Heat Tips (manufactured in house so we can offer additional tips and bespoke designs to suit)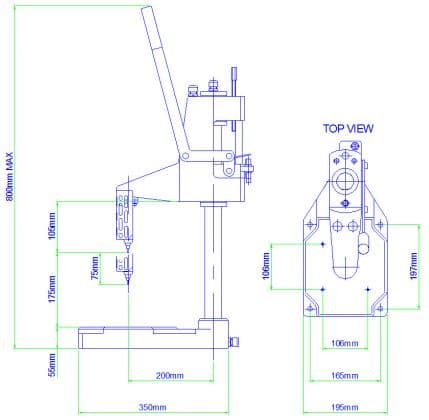 To see the machine in action, follow this link to our youtube channel.. 
Alternatively if you'd like some advice on heat inserting, product selection or to request an on-site demonstration of the heat inserter machine, then please give our sales office a call on +44 (0) 1789 206600, or drop us an email to sales@tappex.co.uk.