Tappex – Environmentally Friendly Threaded Inserts for plastics and composite materials.
With the increase in demand for more environmentally friendly products, Tappex have successfully developed threaded inserts, manufactured from lead free brass for several large international customers, including a furniture manufacturer and an automotive- injection moulder.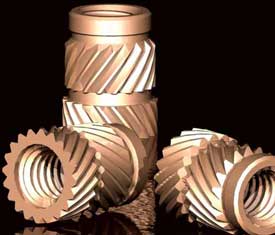 The products we've manufactured so far are suitable for heat-pressed installation into thermoplastics. As demand grows for lead free inserts, Tappex will continue to expand its offering across other product families, including mould-in and self-tapping varieties.
Manufacturing a lead free threaded insert has been a technically challenging process. Usually the lead content of brass, allows for the brass to be machined with relative ease. The absence of lead increases friction during the high-speed machining process so its inevitable that without lead content, cutting tools require re-grinding more frequently as a consequence..
There were also logistical challenges, in dealing with the swarf created. Reflecting Tappex's strong values on environmental sustainability, we recycle approx 99% of the brass swarf that we create. The lead free products are manufactured on dedicated machines, where the swarf is collected and washed separately to the standard brass swarf. Both types of swarf are then stored separately, ready for collection and re-cycling.
If you have an application that requires either standard brass or lead free brass inserts, please get in touch…
by phone on +44 (0) 1789 206600
by Email to sales@tappex.co.uk.