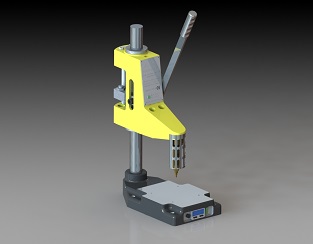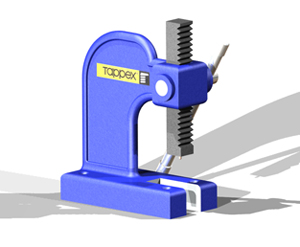 Heat Inserter for installation of threaded inserts
Press-fit tools for the Tappex Multisert range
The Tappex Heat Inserter has been specifically designed to provide reliable and efficient heat insertion of Multiserts in many thermoplastic applications. It is of rugged construction and features a variable feed-back temperature control to suit virtually all grades of thermoplastic and also a speed control to prevent the operator overriding the correct insertion cycle time. An indicator light illuminates as soon as the insert is fully installed.
It has an output of 400w and comes complete with three interchangeable heat tips, for different sizes. Other heat tips are available to order to suit most applications.
Multiserts can be successfully press fitted cold, into the softer and more elastic grades of thermoplastic material, and the Tappex Arbor press has been designed for such low volume cold press fit applications. It provides a reliable and accurate installation, provided a suitable jig is made to locate the moulding firmly in the correct orientation for the inserts.
However for harder grades of thermoplastic, press fitting needs to be assisted by either heating the insert or by using ultrasonics to prevent the plastic becoming stressed which can lead to cracking over time, particularly in thin sections or in long thin bosses.
The following are downloads relating to the Installation equipment range, although a downloads may also be applicable to other product ranges. General information can be found on our downloads page.
If you can't find what you are looking for, why not try our chat facility where one of our helpful team can assist you or simply give us a ring on +44 (0) 1789 206600.
Installing Brass Threaded Inserts Into Nylon Using The Tappex Heat Inserter Tool
In this video we demonstrate the ease at which Tappex's Heat installer can be used to insert Tappex Microbarb, Multisert and Dedsert brass thread inserts into plastic.