Latest News Update – Tappex Thread Insert – Exhibition Dates for the Diary …
Interplas 2014 – The British Plastics Show
NEC ARENA  30th September – 2nd October 2014 inclusive.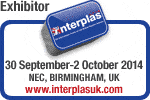 Interplas – the UK's leading plastics industry event – the only event to cover all of the manufacturing processes, technologies and services essential to the plastics sector.
For over sixty years Interplas has been the show to present solutions, products, machines and ideas to the UK manufacturing industry – it is known internationally as the forum where the UK plastics industry comes to do business.
Held tri-annually Interplas showcases almost 400 exhibitors. The event is resurgent and this reflects a revitalised UK manufacturing industry. Visitors will be able to see the entire spectrum of moulding and forming machines in action as well as materials, automation, contract manufacturing and supporting technologies including software, testing, inspection, surface treatments and much much more.
In the heart of the action, on the show floor Interplas presents a high quality seminar programme curated by the leading organisations in the plastics industry including the BPF, GTMA, RAPRA, KTN and NetComposites. These tracks alongside sessions presented by organiser media brands British Plastics and Rubber and Medical Plastics News will provide attendees with information on cutting edge application s, new technologies and the hot topics in the sector.
In September over 10,000 attendees will visit Interplas for insights, education and most importantly to do business. The mix of quality speakers, cutting edge technology and innovative features including MODIP @ Interplas — all accessible with no entrance fees for attendees — is unique.
Tappex Technical Sales engineers will be on stand G91 to discuss your current or upcoming threaded insert or mechanical fixing projects or requirements and also to demonstrate our range of installation tooling – including the Tappex Flexiarm Pneumatic Screwdriver and Tappex Heat Installation (Heat Stake) tool.
You can also view our range of UK manufactured thread inserts designed for plastics, metals, wood, or composite materials. We manufacture our thread inserts from brass or stainless steel or aluminium depending upon the application.
For more information on Tappex products please browse our products here or give us a call on 01789 206600
***********************************************************************************************************************************
National Industrial Fastener & Mill Supply Expo
Sands Expo Center – Las Vegas 22nd to 24th October 2014 Inclusive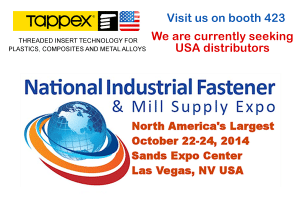 The National Industrial Fastener & Mill Supply Expo is the largest event of its kind.
It is the #1 place for manufacturers to market and sell their products and services to thousands of interested buyers from throughout the USA and around the world; and the best place for industrial distributors, importers, sales reps and others to see, touch and buy the latest product offerings as well as find solutions to unique and complex applications.
The Expo features industrial fasteners; fastener machinery and tooling; inspection, testing and packaging equipment; abrasives; cutting tools; drills; hand tools; plant and safety supplies; and hundreds of other industrial products and services.
Tappex are looking to recruit a USA based sales / technical representative to increase market share of Tappex Threaded Insert Fasteners within the United States of America.
For more information on the show please visit… https://www.fastenershows.com
For more information on the show please click here
For more information on Tappex call us on +44 1789 206600
***********************************************************************************************************************************
 Innotrans Exhibition – Berlin September 23 – 26, 2014
 International Trade Fair for Transport Technology – Innovative Components, Vehicles and Systems
With a large number of reference projects and over 220 transport technology firms, Berlin is the main focus of Germany's transport engineering industry and an ideal venue for InnoTrans, an international platform for buyers and sellers of passenger and freight transport technology. InnoTrans has become established as an international industry showplace focusing on Railway Technology. A full range of rail vehicles are presented in static displays on the Messe Berlin tracks located outside the exhibition halls. Other key InnoTrans features include Railway Infrastructure, Interiors (incl. Travel Catering & Comfort Services), Public Transport and Tunnel Construction.
Tappex Technical Distributor KVT-Fastening will be exhibiting and happy to discuss your latest or upcoming threaded insert projects, supported by the UK's largest manufacturer of specialist threaded inserts fasteners.
For more details on the show please click here
Or to contact and discuss your thread insert applications with our technical distributor please click here