Latest blog post on Tappex self threading thread inserts for metal, plastics, composite materials and wood
Tappex® has acquired, since it was established in 1957, a comprehensive knowledge of the application requirements of threaded inserts fastening across global industries. In recent years, in particular,  our range of self-threading inserts have been progressively developed to include new products necessary to meet the demands of the metals processing industries and more critical customer applications.
Such critical applications include: castings, machined & sometimes fabricated parts produced from light metal alloys i.e. aluminium, zinc & magnesium. Our inserts have been extensively trialled and supplied to customers around the world, on land, sea, air & even in space. Our inserts are of the self tapping type installed into either cast or pilot drilled holes to suit customer's product manufacturing processes.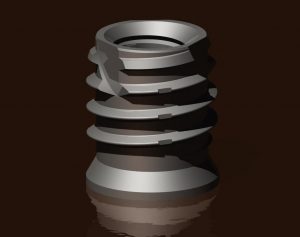 TRISERT-3®
Self Tapping Plated Steel or Stainless Steel Insert. Self Threading / Post mould installation
The Tappex Trisert-3 has three cutting features to provide a balanced cutting action and reduced installation torque. The Trisert-3 is suited for critical applications and is available in two lengths, regular and long, and is based upon the Trisert Reduced Headed design.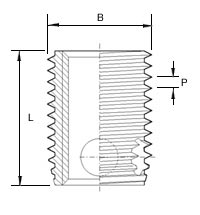 ENSAT®
Threaded Screw Inserts
The use of self-tapping thread inserts has significant advantages over pre-tapped holes, moulded-in inserts and wire thread inserts. They eliminate close tolerance holes required for tapping directly into the base material, damaged tools and low productivity resulting from moulded-in inserts and the time consuming process of placing wire thread inserts into pre-tapped holes. The trisert 3 range offers engineers an easy to fit alternative to traditional thread repair products such as helicoils.
If you would like some advice or you have a design or application that you'd like to discuss with our applications engineers, please give us a call on 01789 206600, or drop us an e-mail to sales@tappex.co.uk